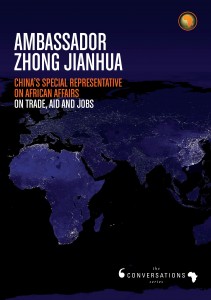 Zhong Jianhua, China's Special Representative on African Affairs, claims that it is the responsibility of his government to "try and help Africa compete with us".
Ambassador Zhong is the most senior Chinese government official to have responded to the accusation from Lamido Sanusi, Governor of the Central Bank of Nigeria, that trade relations with China are a "significant contributor to Africa's deindustrialisation and underdevelopment".
"Africa is strong enough to fight economically…but this is the first time we are hearing that it is willing to do so. I welcome this kind of attitude", notes Zhong in the first edition of Africa Research Institute's Conversations series, launched today.
While Africa is "on the point of take-off", its leaders must realise that "nobody will provide lunch for free – it must be earned", asserts China's top diplomat in Africa. Sustainable development requires proper management and investment of revenues earned from the continent's abundant natural resources. For Zhong, "no country can industrialise simply by selling raw materials".
While criticisms of Chinese businesses operating in Africa are often well founded, these enterprises seldom act any differently at home. Nevertheless, trade relations show no sign of letting up. In fact, Zhong argues, more attention is needed: "The business community in China has not yet understood that Africa is the next growth area".
Productive and profitable agriculture – small and large scale – is an absolute prerequisite for development, but Zhong questions conventional approaches to addressing food insecurity on the continent. "Self-sufficiency in food production is a model of the past for farmers. In modern agriculture, farmers must respond to what the market demands. This is a big challenge".
Zhong reacts with bemusement to the perception that the Chinese government is hoarding archives of data on foreign aid and investment. "As a senior government official, I can tell you that it [data] is not as precise as we would like it to be…if you want data, you must be prepared for a fight".
Questions that cast China in binary terms – as friend or foe – produce answers that are of little value. "China is not bad, China is not good. China is a combination of these things", says Zhong. This should be the starting point for conversation.
Notes to editors:
Africa Research Institute is an independent, non-partisan think-tank based in London. Our mission is to draw attention to ideas and initiatives that have worked in Africa, and identify new ideas where needed.
Zhong Jianhua on Aid, Trade and Jobs can be downloaded from the Africa Research Institute website: http://www.africaresearchinstitute.org/publications/ambassador-zhong-jianhua-on-trade-aid-and-jobs/