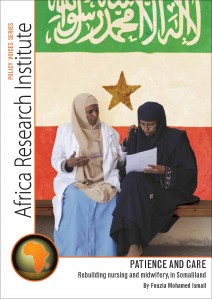 Somaliland's maternal, infant, and child mortality rates are among the highest in the world. A rudimentary health system already beset by under-investment and neglect collapsed completely during the final years of a civil war which ended in 1991. Hospitals and clinics were looted or destroyed. Health professionals fled to refugee camps or overseas. In 2001, when Somaliland held a referendum which approved the adoption of a new constitution and confirmed the country's independence from Somalia, the provision of health care to a population estimated at two to three million remained almost non-existent.
Fouzia Mohamed Ismail was one of the highly-qualified nurses and midwives who returned to Somaliland determined to rebuild their professions. In this timely account, published a decade after the referendum, Fouzia relates what has been done to train a new generation of nurses and midwifes, to improve standards of patient care, to develop relevant training programmes, and to foster regulation of the health sector in Somaliland.
Fouzia is candid about the factors which have hampered the development of accessible and professional health services in Somaliland. Many are common to other post-conflict states in Africa, and elsewhere. She explains, clearly and concisely, the way in which obstacles have been overcome. Consensual decision-making, ingenuity, community and diaspora participation, and the selection of appropriate long-term international partners are among the features of a distinctive strategy to revive the nursing and midwifery professions in Somaliland. For Fouzia, the achievement of Somaliland's social and economic goals is dependent on improving the health of the nation.
[display_podcast]