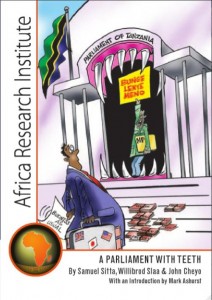 East Africa's most populous nation has been a beacon of political stability in a troubled region. Yet for most of Tanzania's post-independence history, ethnic and religious tolerance has been underpinned by the dominant governing party Chama Cha Mapinduzi. An unyielding political machine has resisted attempts to wrest influence from the ruling elite.
Until now. A cross-party group of activist parliamentarians has boldly asserted their constitutional role: the 'oversight' of government business, and the 'challenge function' of standing up to executive power. The unfolding contest to transform Bunge, Tanzania's National Assembly, is changing political life in ways which even the leading protagonists hardly believed possible.
In this candid and balanced report, three eminent parliamentarians describe their roles in these far-reaching reforms: from the first parliamentary committee of enquiry, to regular Prime Minister's Questions and fresh scrutiny of the foreign donors who contribute more than 40% of the government budget. In the struggle to create vigilant and accountable public institutions in Africa, Tanzania has set an important precedent.