ARI Senior Researcher, Nick Branson, looks ahead to Tanzania's legislative elections, identifying where the opposition could win new constituencies and erode CCM's parliamentary majority. As he argued in a recent Briefing Note, "What's in it for me? Personalities, enticements and party loyalties in Tanzania's 2015 elections", predictions are extremely difficult given declining turnout in recent elections and a high number of first time voters. What follows is an assessment of constituencies where local developments, political scandals or party defections may lead to more closely fought contests than in 2010.
For the first time, Tanzania's main opposition parties have united behind a common list of candidates for both the presidency and parliament, improving the prospects of those standing on behalf of Umoja wa Katiba ya Wananchi (Coalition of Defenders of the People's Constitution) or Ukawa. The alignment of Chama cha Demokrasia na Maendeleo (Chadema), the Civic United Front (CUF), National Convention for Construction and Reform (NCCR-Mageuzi) and the National League for Democracy (NLD) will reduce the number of wasted votes by ensuring head-to-head competition of Ukawa candidates with those from the ruling party, Chama Cha Mapinduzi (CCM).
One might ask why this matters. As ARI documented in "Bunge Lenye Meno: A Parliament with Teeth", Tanzania's legislature has grown in assertiveness, restraining a powerful executive. Parliamentary committees have come to play an important role in investigating corruption scandals, and in scrutinising the budget. In conversation with ARI, Dr Brian Cooksey, an independent member of Transparency International, argued that "in recent years, Bunge has become a space for more meaningful debate. There are likely to be many new legislators from outside the ruling party in the new parliament and this can only contribute to the institution's independence and its effectiveness. Still a lot remains to be done to enforce accountability, as the continued prominence of discredited politicians shows."
To reiterate, what follows is not an attempt to predict how many seats the opposition will win, but rather an assessment of constituencies where Ukawa is most competitive.*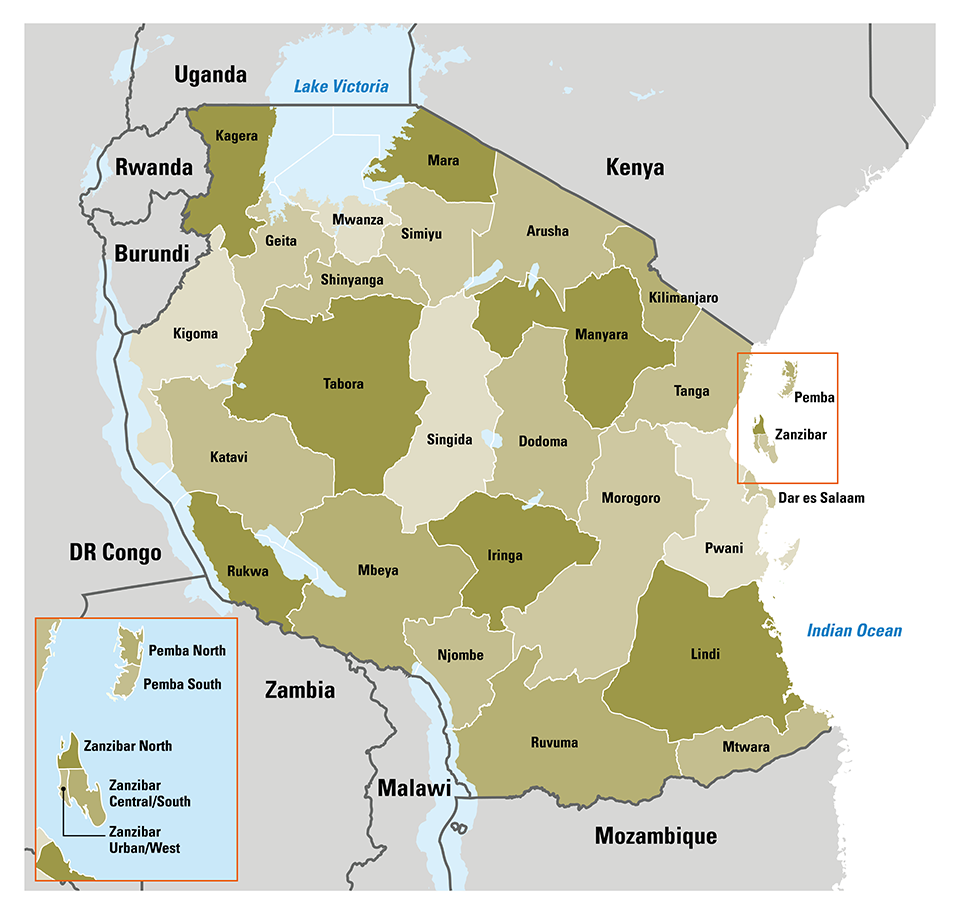 Northern Zone
Ukawa's presidential candidate, Edward Lowassa, can count on a huge support base in Arusha Region, a relatively urbanised and prosperous province hitherto divided between CCM and Chadema. At municipal elections in November 2014, Chadema won 75 council seats and CCM 73. Lowassa's subsequent defection to Chadema has induced a flurry of defections from CCM regional heavyweights, including former deputy minister of lands, Goodluck Ole-Medeye, MP for Arumeru West; regional chairman, Onesmo Ole Nangole; and publicity secretary, Isaac Joseph. Of the seven parliamentary seats in the region, not one has a CCM candidate incumbent standing again. The opposition could sweep the board, although CCM has responded to the challenge in Arusha Urban by putting up Philemon Mollel, a candidate with pockets deep enough to challenge Chadema's Godbless Lema.
In Kilimanjaro Region, Ukawa should perform strongly thanks to the alliance between Chadema and NCCR-Mageuzi, whose party chairmen, Freeman Mbowe and James Mbatia, both have roots in the area. Lowassa is also popular among local voters and has managed to entice local CCM cadres to defect. These include CCM regional youth chairman, Freddy Mushi; national executive committee member, Paul Matemu; and regional treasurer, Jerome Komu. Chadema will hope to hold on to Moshi Urban, despite Philemon Ndesamburo standing down; but CCM's candidate, Davis Mosha, is a wealthy local businessman. Chadema will be looking to take Moshi Rural from Cyril Chami, who was dismissed as minister of industry over corruption allegations in 2012. However, four CCM incumbents will pose a formidable challenge in the region: Prof. Jumanne Maghembe, minister of water; Aggrey Mwanri, deputy minister of local government; Anne Malecela, wife of a former prime minister; and David Mathayo David, former minister of livestock. All won more than 60% of the vote in their constituencies in 2010. In Vunjo, Augustino Mrema, a former NCCR-Mageuzi presidential candidate who now chairs the Tanzania Labour Party, will defend his seat against NCCR leader, James Mbatia.
In Manyara Region, Chadema will count on attracting new supporters following the defection to Chadema of former prime minister, Frederick Sumaye. In addition to his former seat of Hanang, Chadema should win the two Mbulu seats following the division of the constituency into urban and rural parts. This task would have been easier had Chadema's former presidential candidate, Dr Wilbrod Slaa, endorsed Lowassa rather than quitting the party. Slaa could yet act as a spoiler in Mbulu, where he was born. Chadema will also be targeting Babati Rural, which was won by CCM with only 44% of the vote in 2010.
Tanga Region remains a CCM stronghold, but the opposition could improve its showing in Tanga Urban, where CUF made inroads at municipal elections in 2014. Having won the seat with 56% of the vote in 2010, CCM's Omari Nundu was dismissed as minister of transport over a corruption scandal in 2012. Lowassa's rally at Tangamano grounds on 28 September was so popular that at least 50 people fainted.
Central Zone
The centre of the country is CCM heartland, with Dodoma Region its stronghold. Opposition parties failed to put up candidates at all in two of nine constituencies in 2010, but Lowassa's personal popularity in the national capital may cause a few surprises. Ukawa is targeting Dodoma Urban, where incumbent David Mallole is standing down and local district commissioner, CCM's Anthony Mavunde, hopes to succeed him; he faces a challenge from Chadema's Kigaila Singo Benson. The division of Kondoa into urban and rural constituencies might provide another opening for the opposition.
A forthcoming ARI guest post by Michaela Collord will focus on Singida Region, where Chadema's legal mastermind, Tundu Lissu, has led a sustained opposition challenge in traditional CCM territory.
Tabora Region provides a few openings for the opposition. In 2010, Igunga was won by Rostam Aziz, a Tanzanian billionaire and then CCM treasurer who is closely associated to Lowassa. Aziz stood down in July 2011, triggering a by-election that October. CCM's Dr Dalaly Peter Kafumu only narrowly won the seat and the results were disputed in court, exposing dubious campaigning by the ruling party.  Sikonge provides another opportunity. Said Nkumba, who won 64% of the vote in 2010, has defected from CCM to Chadema. Ukawa might have stood a better chance in Tabora City had Prof. Ibrahim Lipumba not resigned as CUF national chairman rather than endorse Lowassa – Lipumba hails from Tabora.
Kigoma Region, on the shores of Lake Tanganyika, is a major chink in CCM's armour, but the opposition is divided. In 2010, the region returned four NCCR MPs, three CCM MPs and the charismatic Zitto Kabwe, then representing Chadema. A former chairman of the parliamentary accounts committee, Kabwe was expelled from Chadema and established his own party, Alliance for Change and Transparency (ACT-Wazalendo). In July 2015, he persuaded Moses Machali, the NCCR MP for Kasulu Urban to defect to ACT. Machali may struggle to retain the seat, which he won with only 45% of the vote in 2010; however, Kabwe can be certain of his own victory in Kigoma Urban. Another battle to watch will be in Muhambwe, where NCCR incumbent Felix Mkosamali faces a challenge from his brother Edgar, standing for ACT.
 
Coastal Zone
Lowassa supporters thronged Dar es Salaam, the commercial capital, when he collected his election nomination forms and for his opening rally. However, the opposition faces a significant challenge in capitalising on its support. Biometric voter registration (BVR) was problematic in the city resulting in a much smaller electorate than anticipated: 1.8 million of an estimated 4.5 million residents. Many of those who failed to register are young people, who typically side with the opposition. The youth vote will also be supressed because the city's dozen universities are due to be closed during the election, with many students who registered to vote in the city in effect disenfranchised.
Despite the defection to Chadema of former CCM regional chairman, John Guninita, the ruling party has resilient incumbents in four constituencies: to the north of the city, in Kinondoni; in downtown Ilala; and in the southern constituencies of Temeke and Kigamboni. Ukonga, where the CCM incumbent, Eugen Mwaiposa, died in June 2015 could have fallen to the opposition had the ruling party not found a strong candidate in Jerry Slaa, a former local mayor. However, the neglected area of Segerea may elect Julius Mtatiro, a youthful campaigner and former CUF deputy secretary-general; and two newly-created constituencies, Mbagala and Kibamba, are realistic opposition targets, with Chadema deputy secretary-general, John Mnyika, likely to take the latter. CCM is targeting the seats of Ubungo and Kawe by launching the first phase of a Bus Rapid Transit (BRT) before polling day. In Kawe, Chadema's Halima Mdee faces a challenge from Kippi Warioba, son of the former prime minister and attorney general who chaired the Constitutional Review Commission (CRC). In 2010, Mdee had to defeat both CCM and James Mbatia, leader of NCCR-Mageuzi; this time she is the sole Ukawa candidate.
The political landscape in Pwani Region has shifted given the absence – for the first time since the Nyerere era – of a CCM presidential candidate from the Coast. Pwani has rapidly urbanised over the past decade, partly thanks to the largesse of President Kikwete. Ukawa candidates may struggle to gain traction in Kikwete country, but CUF could mount a credible challenge on the island of Mafia, where CCM's Abdulkarim Shah is standing down.
In Lindi Region, CUF already holds the cities of Lindi and Kilwa and these should be retained by Salum Barwany and Selemani Bungara, respectively. CCM ideology and publicity secretary, Nape Nnauye, is contesting Mtama, hoping to inherit the seat of outgoing foreign minister, Bernard Membe. Nnauye has mobilised President Kikwete and his predecessors, Mkapa and Mwinyi, to address local rallies, but local branches of the ruling party have been beset by defections.
Morogoro Region is unlikely to leave CCM hands. It remains primarily agricultural, despite rapid urbanisation, and local party structures have responded to changing demography – and potential opposition threat – by selecting youthful candidates across the region. Kilombero was the only seat where the ruling party failed to secure more than 50% of the vote in 2010.
Mtwara Region is particularly difficult to predict. At the 2010 general elections, the province was a CCM stronghold, with CUF only winning about 25% of the vote. However, in the November 2014 municipal elections Ukawa won 53 seats compared to CCM's 58. The groundswell of support for the opposition follows protests over the government's decision to pipe natural gas more than 300 miles to Dar es Salaam rather than build a refinery in Mtwara. Residents view the US$1.225bn pipleline as a snub, depriving the region of a new employment opportunity. They also demand a greater share of the proceeds from the gas than the promised 0.3% and generally resent the lack of transparency or community engagement in the placing of contracts associated with the project. Lowassa's promise to review all natural gas contracts may generate incremental support for CUF in Mtwara City by capitalising on the discontent.
Lake Zone
In the newly-established Geita Region, CCM hopes to mobilise otherwise uninterested voters having selected a local as their presidential candidate. John Magufuli was made an honorary tribal chief of the country's largest ethnic group, the Sukuma, which predominates along the shores of Lake Victoria. Magufuli has eagerly addressed his kin in their native language, rather than KiSwahili, and his name on the presidential ballot will certainly help CCM in Geita. The only constituency likely to fall to the opposition is Bukombe. This was carved out of Shinyanga Region and was won by Chadema's Kulikoyela Kahigi in 2010.
A close contest is expected in Kagera Region, where Antony Mbassa will strive to retain the Biharamulo constituency he won for Chadema in 2010 (but which first elected Magufuli in 1995). In Bukoba Urban, numerous CCM councillors and youth members have defected to Chadema, undermining the chances of Khamis Kagasheki successfully defending the seat against Wilfred Lwakatare. The response of voters in Muleba South to the sacking from Kikwete's cabinet of local star, Prof. Anna Tibaijuka, will be a test of CCM's ability to "get out the vote".
Mwanza Region will provide a barometer of Magufuli's popularity nationwide. After Dar es Salaam, it is the second most densely populated area of mainland Tanzania. The number of inhabitants of Mwanza City grew by one third in the decade to 2012, and the challenges posed by its rapid growth will challenge old loyalties. Chadema already has sitting MPs in Ilemela and Nyamagana. On Ukerewe Island, Salvatory Machemli defected from Chadema to ACT, while the new Ukawa candidate, Joseph Mkundi, is a former chair of the local council, raising the possibility that the opposition vote may be split. The incumbent for Sengerema, CCM's William Ngeleja, was sacked as minister of energy in 2012 over corruption, while the opposition has recruited Lawrence Masha, a former CCM interior minister and prominent local businessman. Ukawa will also be looking to win the constituency of Magu, which CCM won with 46% of the vote in 2010 and where the sitting MP, Festus Limbu, is standing down.
Newly-formed Simiyu Region, Tanzania's most rural province with an average household of seven, will also provide a bellwether for CCM support in the Lake Zone. Chadema already holds the seats of Meatu, Maswa East and Maswa West securely; it could add the reformed constituency of Itilima (formerly Bariadi East) held by John Cheyo. The party might also hope to take the adjacent constituency of Bariadi, whose MP, former attorney general Andrew Chenge, was implicated in a recent energy scandal but remains determined to retain his seat, seemingly at any cost.
In Shinyanga Region, despite – or perhaps because of – the selection of Magufuli as presidential candidate, CCM's regional chairman Khamis Mgeja defected to the opposition; as did the MP for Kahama, James Lembeli. This follows the defection of Fred Mpendazoe, MP for Kishapu, from CCM to Chadema in 2009. Shinyanga Urban will also be on Ukawa's list of key targets, following success in last year's municipal elections in which opposition parties collectively won 29 seats and CCM 26.
Situated between Lake Victoria and the opposition stronghold of Arusha, Mara Region could mark a fault line between CCM hegemony and Chadema expansion. Six weeks prior to polling day, youth activists clashed in Tarime, just prior to Magufuli's arrival for a rally. The incident resulted in one death, five hospitalisations and the destruction of a Chadema candidate's car. In 2010, CCM took Tarime with only 38% of the vote, but it has since been divided into two constituencies, complicating predictions. Musoma Urban is the only opposition constituency in the region, held by Chadema's Vincent Nyerere, nephew of Tanzania's first president. Bunda Urban will see septuagenarian CCM grandee, Stephen Wasira, face Chadema's Esther Bulaya, who is half his age and defected from the ruling party. Ukawa's prospects may be dented by intervention from the other side of the border: former Kenyan prime minister, Raila Odinga, has publicly endorsed Magufuli and called on local Luo and Kuria communities to vote for CCM.
Southern Highlands
CCM will continue to dominate in the Southern Highlands. The party's only weak spot is Mbeya Region, which has rapidly urbanised over the past decade. Chadema will be counting on retaining their two MPs in Momba (David Silinde) and Mbeya Urban (the rapper Jospeh Mbilinyi, better known as Mr II/Sugu). Of the 13 seats up for contention, only in four are CCM looking to return incumbents, complicating predictions.
Lowassa's decision to launch Ukawa's campaign in Iringa, and his apparent ability to draw massive crowds in a region traditionally held by CCM, have represented a serious challenge to the ruling party in its heartland. Iringa Urban looks to be a three-way marginal with Chadema incumbent Peter Msigwa facing Fredrick Mwakalebela, a former secretary-general of the Tanzanian Football Federation, and Chiku Abwao, a former nominated "special seats" MP standing for ACT. Reverend Msigwa and over 60 Chadema activists were arrested at the end of September, with the candidate and three others charged with breach of peace in early October. CCM has re-selected incumbents in all five seats it won in 2010, and hopes to parachute Cosato Chumi, a foreign ministry official, into the newly-created constituency of Mafinga Urban. He faces opposition from Chadema's "Big Willy" Mungai.
The opposition may make headway in what remains of Rukwa Region, challenging in Sumbawanga Urban where their candidate, Sadrick Malili, is a prominent local businessman.
Katavi Region is Tanzania's smallest by population, albeit growing rapidly, and may not receive much attention during the campaign.
In Ruvuma Region, towards the border with Mozambique, candidates from Chadema, CUF and NCCR, with their support bases in urbanised areas of the north, east and west of the country, respectively, might struggle to engage with rural voters.
Njombe Region, adjoining Lake Nyasa, remains CCM territory. The new constituency of Makambako might be vulnerable to Chadema, if the town's young population can be mobilised. There is also scope for a Chadema challenge in the regional capital, Nyombe City, where the outgoing Speaker of Bunge, Anna Makinda, is stepping down.
On the Isles, voters will cast a ballot not only for the Ikulu in Dar es Salaam and Bunge in Dodoma, but for Zanzibar's executive and its legislature, the House of Representatives. The latter comprises 50 directly-elected seats; 10 seats nominated by the President of Zanzibar; and 20 special seats reserved for women whose appointment is overseen by the president. The ability of the executive to "pack" the House in effect prevents a government of cohabitation – and raises the stakes in the presidential election. This will be a close competition between the incumbent, Dr Ali Mohamed Shein, and his deputy and perennial challenger, Seif Sharif Hamad, CUF secretary-general. They were separated by less than 3,500 votes in 2010, fewer than the number of spoilt ballots. Following a constitutional amendment to form a Government of National Unity (GNU) on Zanzibar, the two men have shared power for five years at the head of a coterie of CCM and CUF ministers.
Following a fractious debate over the katiba, CUF will hope to retain all 18 seats it won in 2010 on the northern island of Pemba; and at least double the four it won on the southern island of Unguja by targeting the urban districts of Mji and Magharibi, where it made inroads in 2010. If this strategy is successful, CUF could win 26 of the 50 elected seats, two more than it did in 1995. However, any assumptions or predictions are hazardous given that the competence and impartiality of the Zanzibar Electoral Commission (ZEC) has already been called into question.
*The outgoing parliament had 239 directly-elected seats. Since the 2010 elections, 26 new parliamentary constituencies have been created, while numerous others have been altered. Bunge also includes nominated "special seats" to guarantee 30% female representation. The number of additional seats allocated is impossible to determine until the proportion of men and women elected is known. In 2010, only 21 women were elected to represent constituencies with the result that 102 special seats were allocated. Of these, 67 went to CCM; 25 to Chadema; 10 to CUF. (Women also accounted for two of the five seats awarded to members of Zanzibar's House of Representatives; and one among the 10 appointed by the president). This brought the total number of MPs to 357 (239 directly elected; 102 special seats; five from Zanzibar; 10 appointed by the president, and the Attorney General, ex-officio).
Featured image by: Ania Gruca