This was a landmark event for ARI – the launch of our first sequel publication. Dr Chidara Muchineripi wrote about the early successes of southern Zimbabwe's Chinyika Communities Development Project (CCDP) in 2008. At the time, the project had helped 5,000 people secure their own food supply through growing long-neglected indigenous crops, such as finger millet. Six years later, the project has gone from strength to strength. Nearly every family in Gutu, a district of 40,000 households, has grown finger millet at some point and participants can now rely on 3 to 5 years of strategic food reserves. The CCDP recently entered its second stage, aimed at enabling rural households to become economically self-sufficient. Chidara is already keen to plan his next trip to London to provide a further update on the progress of the CCDP, as he anticipates the project will continue to prove transformative.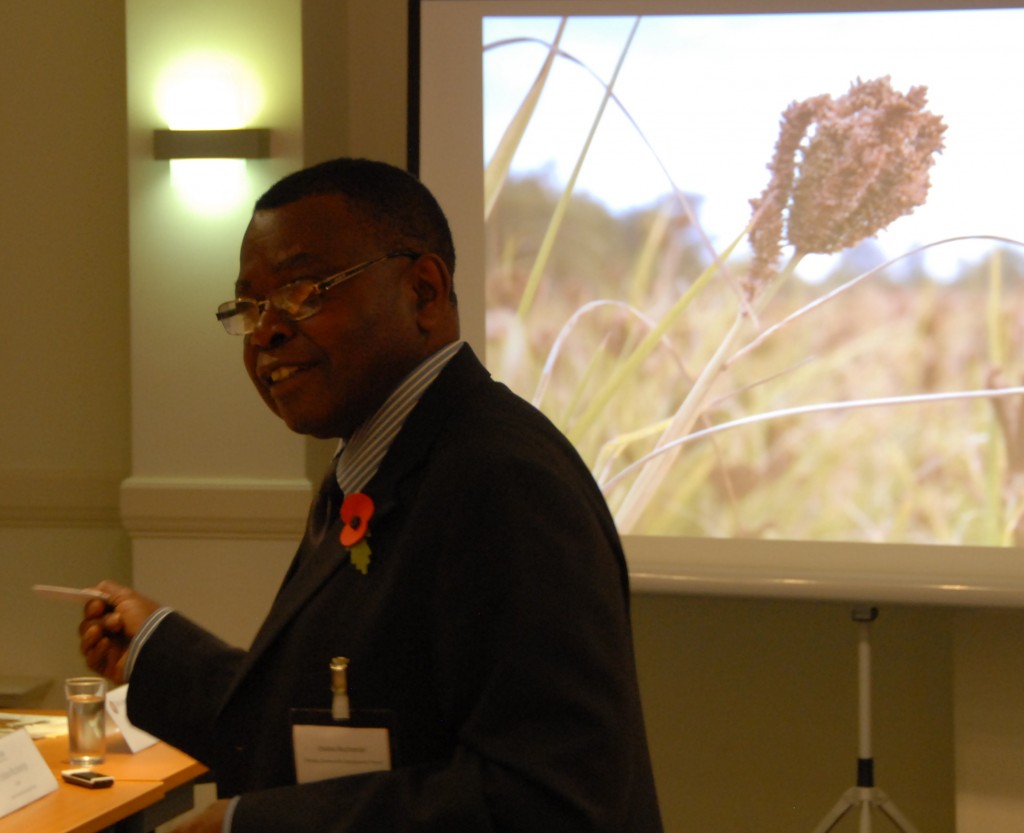 Chidara felt compelled to launch the CCDP following a visit to his home village of Tavengwa during a severe drought in 2005. Chidara brought his mother a gift of five bags of maize, which prompted other families to ask for food, as their situation was far worse than hers. In response, Chidara set about transporting maize to households in Tavengwa from areas where the harvest had been reasonable. Although this solution would do for the short-term, Chidara was concerned about its sustainability. It was all very well dropping off 50kg of maize but what would the families do two or three months down the line when food supplies ran out? A long-term solution was needed and he was certain that to have any hope of success it would have to come from the people themselves.
As it happened, the indigenous knowledge of Gutu's older farmers held the key to the district's residents achieving food security. They remembered a time before recurrent food shortages, when communities kept themselves adequately fed by growing finger millet. This small grain is far better suited to Gutu's semi-arid climate than maize. It is highly nutritious, providing everything the body needs in terms of vitamins, minerals and fibre. It also has medicinal value and can be used to manage high blood pressure and diabetes. School children are healthier since finger millet was re-introduced to the dirt and teachers say their results have improved. Crucially, this small grain has the advantage of an impressively long shelf life – it can still be consumed after 20-25 years provided it is stored in a closed and dry environment.
The CCDP's transformative power derives not so much from helping farmers diversify their crops but more from providing a platform for communities to become economically self-sufficient. Through the process of becoming self-reliant for food, communities gain the confidence and ability to pursue income-generating activities, such as fish farming and beekeeping. Its success and sustainability is grounded in behavioural change. Practitioners seeking to realise similarly transformative impact should take away three main lessons from the CCDP:
Traditional knowledge has a crucial role to play.
Communities must be continually engaged and asked about what should be done rather than told what to do.
A long-term view is vital as it takes time for new approaches to become established norms.
Finally, in a country riven with political division, it is notable that the CCDP has not been co-opted by politicians, despite its success. This is in large part thanks to the efforts of one Mrs Mlambo, the CCDP's dynamic co-ordinator who has ensured that the project is steadfastly non-partisan.
Questions
Q: Anna MacPhail, King's College, London: "Why did growing finger millet cease to be a norm and maize become the dominant crop in Zimbabwe?"
A:  CM responded that maize was introduced when colonial rule was established in Zimbabwe, as it was viewed as good for the people and a suitable way of feeding workers in mines and factories. The colonialists promoted the growing of maize by both commercial farmers and those living on communal lands. The seed houses took advantage of this prioritisation of maize and conducted research focused on breeding different varieties for maize to suit the different regions of Zimbabwe. Eating habits evolved in line with this strong preference for maize, leading to meals using finger millet being widely seen as inferior and laborious to prepare. In the early days of the CCDP, young people were turned off by finger millet's dark colour, which they likened to boot polish. It does not help that finger millet can be grainy and unappetising if poorly processed, which underlines the importance of capturing the knowledge of older people who know how to prepare the grain best. Finally, the government's Grain Marketing Board (GMB) would only buy surplus maize and not finger millet. Therefore, if you wanted to make money by selling to the government, finger millet was a non-starter as a choice of crop.
Q: Sagar A Sumaria, soethical media: "How do you recapture lost indigenous knowledge not only about food but also about holistic medicine? How do you respond to arguments that the efficacy of indigenous herbs and medicines is not scientifically proven?"
CM recognised that promoting complete health through making use of cheap and locally available medicine highlights a significant challenge: how do you recollect, document and use indigenous knowledge? It is not enough for herbs and crops simply to be available, each of their unique uses needs to be understood. Since this knowledge is oral, it runs the risk of being lost when old men and women die.
Responding to the second question, CM said that medical professionals are increasingly aware of the usefulness of traditional medicines and many argue that they can be used concurrently with conventional medicine. It makes sense to supplement conventional medicine with herbs that can be easily grown in your backyard.
Edward Paice, ARI's Director, added that, in April, Father Anselm Adodo from Pax Herbals will be in London to launch his own publication about his enterprise manufacturing traditional medicine in Nigeria, which supports a large network of local outgrowers and distributes nationally. Pax Herbals is held up by the Nigerian Health Ministry as a model of how to commercialise age-old traditional remedies – and to do so in a scientific manner.
Q: Louise Piper, Haller Foundation: Are you worried that you've reached a scale that will cause donors and government ministries to attempt to get involved and pollute the work you're trying to do?
CM conceded that this was a concern but stressed that fortunately the programme is owned by the people, who are now self-reliant and able to look after things for themselves. Even if donors get involved, the people will likely resist any disruption to what they have seen work in the past. The people are also alert to the fact that politicians always want to associate with success, which explains why Mrs Mlambo does not allow politics at field days.
Audio podcast: 
[audiomack src="http://www.audiomack.com/song/africaresearch/grain-revolution-finger-millet-livelihood-transformation-in-zimbabwe"]
Videos of Chidara's presentation and the Q&A, plus an interview with Chidara: 
Photos taken at 'Grain Revolution' event: