According to the 2009 Census, 17.8 million Kenyans aged between 18 and 60 years were classified as "eligible workers". This constituted 46% of the total population of 38.6 million.
In 2009, there were 10.7 million jobs, a number that increased by 42% to 15.2 million in 2015. On the face of it, the number of new jobs might look impressive, outstripping gross domestic product (GDP) growth averaging about 5% a year during the period. However, as can be seen, most new jobs were in the informal sector. While those in salaried formal employment increased by 28% from 2.0 million in 2009 to 2.6 million in 2015, the number of workers with informal jobs increased by 44% from 8.7 million to 12.6 million. By 2015, 83% of eligible workers were employed in the informal sector, an increase of two percentage points since 2009.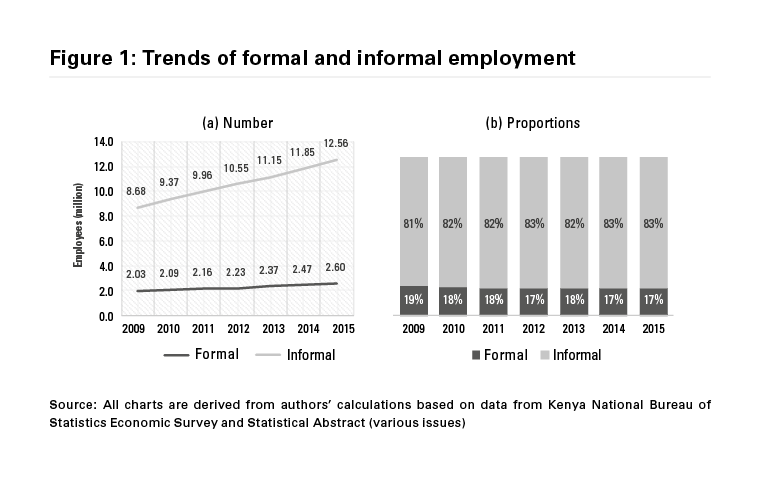 1. African Development Bank, "The Middle of the Pyramid: Dynamics of the Middle Class in Africa", 2011
2. The average exchange rate for 2015 was US$1:KSh98.2 (Central Bank of Kenya statistics). A rounded rate of US$1:KSh100 has been used throughout for guidance
3. Kenya National Bureau of Statistics Economic Survey 2016 p.76
4. CPI figures as at fiscal year end (March)
5. World Bank, "Kenya – Jobs for Youth", Report No. 101685-KE, February 2016, p.8
Kwame Owino is chief executive officer of the Institute of Economic Affairs – Kenya; Ivory Ndekei is programme officer (regulation and competition) and Noah Wamalwa is assistant programme officer (public finance management) at the same institution.