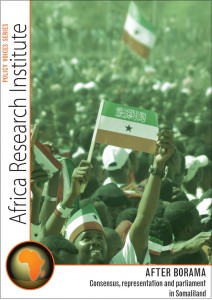 On the eve of the second UK government conference on Somalia in London, Africa Research Institute's latest publication focuses on the way in which peace and stability have been achieved in neighbouring Somaliland. The ten contributors to After Borama: Consensus, representation and parliament in Somaliland include two government ministers, the three Speakers of the House of Representatives, MPs, civil society activists and representatives of women's organisations. Collectively, they offer important insights and a timely assessment of democratic politics, the role of institutions and national development priorities in Somaliland.
The genesis of Somaliland's political stability lies in the landmark 1993 Conference of Elders in the town of Borama. Portrayed as one of the most successful indigenous peacemaking processes in contemporary Africa, the conference concluded 20 years ago this month. Participants reached consensus about disarmament and demobilisation following the overthrow of President Siyad Barre's government in Mogadishu, equitable political representation and the creation of democratic institutions – the bedrock of two decades of relative peace and stability.
"Somaliland continues to put its faith in localised, traditional conflict resolution mechanisms that have kept our country peaceful for so long", said Mohamed Omar, Somaliland's Foreign Minister, at the launch of After Borama at Africa Research Institute in London on 1st May. "Somaliland [is] functioning as a state, maintaining security within defined borders, delivering services to its people, while collaborating with neighbours and the wider international community to address regional challenges", he added.
Somaliland has a credible constitution, has held a succession of genuinely competitive multi-party elections and has effected peaceful transfers of power. As a new government in Somalia seeks to establish its credentials, Somaliland's political achievements and experiences deserve to be more widely heeded – but not romanticised.
In his speech, Mohamed Omar emphasised Somaliland's independence but also its willingness to participate in efforts to build strong, accountable government in Somalia. "Somaliland has a strong interest in seeing stability restored in our neighbour … We would like to play a role in helping to stabilise Somalia further, including by sharing our experience of building peace and democracy in a Somali political context".
Notes to editors:
Africa Research Institute is a non-partisan think-tank based in London. Our mission is to draw attention to ideas that have worked in Africa, and to identify where new ideas are needed. After Borama: consensus, representation and parliament in Somaliland can be downloaded from the Africa Research Institute website: http://www.africaresearchinstitute.org/publications/policy-voices/parliament-in-somaliland/
For media enquiries, please contact Edward Paice or Hannah Gibson on 020 7222 4006 or 07922 955 520