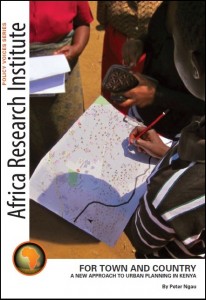 Download the full Policy Voice
Urban and regional planning is under the spotlight in Kenya. The 2009 National Housing and Population Census forecast that the percentage of Kenyans living in urban settlements will increase from 32 percent to 54 percent by 2030. Residents of Nairobi await the details of a new city master plan. The devolution of power and allocation of central resources to the 47 county governments created by the 2010 constitution is under way – a process that requires integrated development plans to be in place.
In the post-independence era, urban planning was deployed as a tool for "modernisation" in Kenya. But in the 1980s and 1990s modernisation was supplanted by autocracy and straitened economic circumstances. In turn, planning became a means for securing control, exclusion and further enrichment of political and economic elites redolent of the colonial era.
Legislation based on outdated and inappropriate models such as the UK's 1947 Town and Country Planning Act was routinely used to carry out mass evictions and demolitions in informal settlements in Kenya. By the end of the 20th century, the planning profession had become irrelevant or discredited to all but its few beneficiaries.
In this timely Policy Voice, Professor Peter Ngau describes in detail how he and colleagues at the Department of Urban and Regional Planning (DURP) at the University of Nairobi – and other institutions – have sought to revitalise the education and training that planners receive and encourage the adoption of more progressive approaches among planning professionals. Curricula reform, research and innovation, close links with other planning schools in Africa, and working partnerships with civil society organisations in informal settlements are the bedrock of the effort to ensure that Kenya's future urban planners are equipped to manage rapid urban transformation.