Oil-rich Bayelsa state has just eight local governments and a population of less than two million. Its citizens should have benefited from revenues that exceeded US$5bn in the last ten years. Yet a 2013 study revealed that 59.7% of its citizens are at risk of slipping into poverty given their socioeconomic conditions.
At the moment Bayelsa's government is preoccupied by more immediate problems: last week its civil servants were on strike over unpaid salaries and pension contribution arrears. A temporary solution – paying 50% of salaries – has been found, but the state's predicament is emblematic of Nigeria's sub-national governments, which mostly resemble little more than receptacles for the periodic redistribution to a fortunate minority of oil revenues. In total 26 states are behind on the payment of salaries and pensions.
Missed opportunity
In 2015, just weeks after President Buhari took office, two-thirds of Nigeria's 36 states successfully sought a bailout package. US$2.1 billion, which could have financed capital projects and social welfare schemes, was instead dumped in state coffers to clear debts. The money was sourced from the Nigerian National Petroleum Corporation which had failed to remit dividends from the Nigerian Liquefied Natural Gas for years.
Against a backdrop of rising food prices, the collapse of countless small businesses and fuel queues, the question is – did the president do enough to resolve the fiscal crisis of Nigeria's states? Unfortunately, but unsurprisingly given the extent of the rot, the answer is no. The bailout was a temporary solution, followed by others.
In the last few months, the Federal Government has distributed a further N1tn ($5bn), comprising N689.5bn in bailouts and N310bn in loans backed by the Excess Crude Account. According to the Office of the Vice President, "as of 18 May 2016, 30 states have so far benefited from the salary bailout and 35 states have applied for the Excess Crude Account-backed loans". Many states remain in the red and are still holding out begging bowls at National Economic Councils.
Buhari missed an opportunity. The president may have had the best intentions but approving bailouts without demanding greater transparency, accountability and responsibility from state governments was not a long-term solution. Concerns were raised at the time that giving unconditional bailouts and loans to states would not address systemic problems. Most states still operate with a substantial number of ghost workers, needlessly bloated overheads, a multiplicity of secret banking arrangements and a complete inability – or unwillingness – to increase internally generated revenues.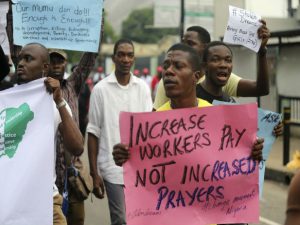 New approach?
A recent report by the Independent Corrupt Practices Commission highlighted discrepancies and alleged fraud in the use of the bailout funds by states including Imo, Benue and Osun. Perhaps this will serve as a wake-up call for the president. On 26 May 2016, the Federal Government released targets for a Fiscal Sustainability Plan, setting out a new framework of engagement with sub-national government.
In future, states will be required to demonstrate fiscal transparency, show a working model for increasing internal revenues and adhere to new standards for administrative efficiency. The Fiscal Sustainability Plan is a commendable document. However, key implementation deadlines for publishing state budgets are set for 2017, which is when post-budget implementation audits should be scheduled for. There is clearly some way to go in promoting accountability and transparency.
In the meantime, states continue to display a voracious appetite for spending and boundless ingenuity in hijacking any potentially available source of funding. On learning about $3.2bn in untapped funds at the World Bank, many have set to work preparing proposals to access the facility. In the north, governors are aiming to join together to access funds deposited with the Islamic Development Bank. Reform of Nigeria's states is unlikely to be driven from within.
Lagos remains something of an exception. Improvements in tax collection over the past decade mean that in 2014 it was the only state that generated more than 50% of its revenue. This solid revenue base allows the state to move on at pace with development projects. A 38km bridge costing US$4.2 billion has just been commissioned to further ease the movement of goods and services in the country's economic hub. Meanwhile nearly every other state is confounded by the most basic capital projects and service provision.
President Buhari can still make up for lost time and, as the man with the greatest leverage, he must lead the way in reforming Nigeria's states. This will require bold ideas, ruthless efficiency and commitment to transparency. The buy-in of impoverished states can be achieved quite simply: any that want money from the national purse must by fiat submit to public monitoring of the funds they receive and how they are spent. Nigerians too, need to be fixated with the actions of their state governors and governments.
Oluseun Onigbinde, an Ashoka and Aspen New Voices Fellow, is the Lead Partner of BudgIT – a civic organisation that simplifies and tracks public spending.