Government in Nigeria "is detached from its people at every level of the federation", said Chidi Odinkalu, chair of the National Human Rights Commission, when interviewed for ARI's 2016 briefing note "State(s) of crisis". For most Nigerians, the state and unelected local government authorities are the most proximate form of government. Yet too little attention is paid to how these institutions operate and impact – or fail to impact – on the daily lives of citizens.
In a new ARI blog series, "NIGERIA: HAVE YOUR SAY", Nigerians from many different walks of life will reflect on aspects of sub-national government from Borno in the north-east to Lagos in the south-west; and from Sokoto in the north-west to Enugu in the south-east. There will be no overtly self-serving or politically partisan inclusions.
In launching the series, ARI aims to provide a platform that will contribute to a more nuanced understanding of local governance in Nigeria and to draw attention to suggestions for improvement. New submissions will be added regularly in the coming months.
In the introductory blog, Cheta Nwanze argued that the "state of origin" concept should be done away with. In the second piece in the series, Mark Amaza looks at the impact of violent conflict on Borno state.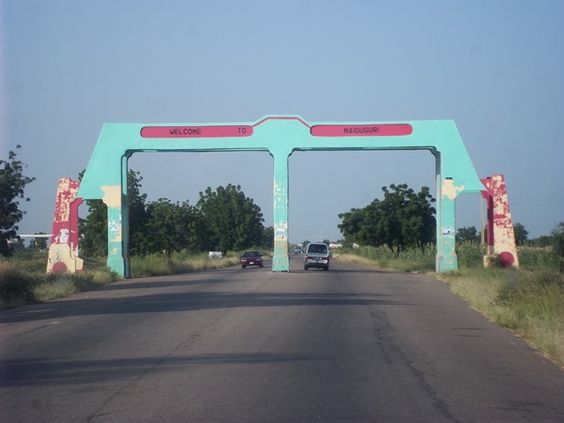 No Nigerian state – with the possible exception of Lagos – has been in the local and international spotlight over the past few years as much as my home state, Borno. Sadly, we have been in the news for all the wrong reasons. At one point, Boko Haram was in in control of 21 of Borno's 27 local government areas. The insurgency has come to define the lives of people: there is hardly anyone that has not been directly or indirectly affected by the violence.
The security situation has vastly improved since 2015 and gradually towns like Bama are coming back to life. Commuters can now travel, with military escorts, on the Maiduguri-Damboa-Biu road – but the journey is a tense one and the bullet casings littered beside the road are a stark reminder of the recent past. Damboa, a once thriving town, is a shadow of its former self, eerily silent and dominated by burnt out, abandoned buildings.
From crisis to crisis
Prior to the start of the insurgency in 2009, Borno was already beset by challenges. The insurgency exacerbated an already dire situation. In 2014, fewer than 100,000 children were enrolled in primary school; poverty was endemic; and Borno was ranked last of Nigeria's 36 states in terms of the percentage of its budget raised through internally generated revenue – just 4.2%. In 2016, close to half of the state's estimated population of 4 million had been displaced. Many are housed in internally displaced persons (IDP) camps that are constantly short of food and susceptible to outbreaks of diseases like cholera. UNICEF has warned that up to a quarter of a million children are in danger of dying from hunger and malnutrition.
Borno State's governor, Kashim Shettima, has publicly spoken of the need to support IDPs and committed to ensuring that 50 bags of rice are cooked daily in the camps. However, the state will need external help if it is to meet demand. It will also need to ensure that money is spent, and accounted for, transparently and judiciously. There is growing discontent among Borno residents with their state government: allegations of relief materials being "diverted" by state officials have not been acted on, even when there is accompanying video evidence. In addition, despite the claims of the government that the people in camps are well fed there are constant complaints of hunger and starvation. For anyone who visits the camps this reality is all too clear.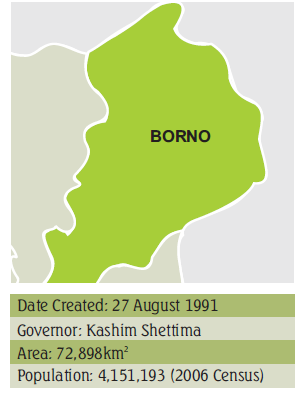 Government under the microscope
The performance of the state government under Governor Shettima has been subjected to closer scrutiny over the past few years, especially in the capital, Maiduguri. Despite being relatively unaffected by the insurgency, very little infrastructure development is apparent in the city which has increasingly become an urban refuge for those fleeing from other parts of the state. An excellent example is the 3km Lagos Street bridge which, despite having been "under construction" for three years, shows no signs of nearing completion.
The transparency and accountability of the governments' finances has been called into question. Details of the state budget – officially N175.9bn (US$560 million) in 2015 – are not made public and expenditure often appears to be entirely discretionary. Local government areas which were occupied by Boko Haram have continued to receive full and uninterrupted allocations. How, one wonders, has this money has been spent? Abuse of state resources is rife.
These concerns are important and should be addressed. But I also encounter a lot of optimism.  Despite the lack of new infrastructure, there is an upturn in commercial activity in Maiduguri. Companies that had deserted the city during the worst of the insurgency are gradually coming back. Previously restive areas such as Biu, in the southern part of the state, are enjoying a modicum of peace and its inhabitants have returned to their agricultural activities.
There is still a mountain of work to be done. Firstly, to tackle the humanitarian emergency already underway and resettle those displaced by it; and then to rebuild – or rather build – a state on a new foundation of radically improved relations between government and citizens.
Mark Amaza runs MINDcapital, a branding, PR and strategy firm based in Abuja. He is also a writer and online columnist. He tweets @amasonic
If you are interested in writing a piece on some aspect of life in your state, please contact Jamie Hitchen ([email protected]) who can provide further information. You need not have had any experience of writing articles or blogs. We welcome suggestions from the young, the old, government employees and entrepreneurs, traders and teachers – anyone with an insightful and interesting take on an issue of importance in their state. Please note that contributors are not remunerated.