Boko Haram's activities in the Lake Chad basin have blighted the lives of millions of Nigerians since 2009. The indifference which for years exemplified the government's response to the insurgency is increasingly being challenged. Amid proclamations of military victory, federal, state and religious authorities need to do far more if they are to consolidate gains and realise the objectives set out in "The Buhari Plan" for rebuilding the northeast.
Following publication of "How Boko Haram exploits history and memory" and "An introduction to Boko Haram's ideologues: from Yusuf to Shekau", Fr. Atta Barkindo suggests some short- and long-term interventions that could have a significant impact.
In the short-term
Recognition of Boko Haram: The Nigerian government must recognise that Boko Haram does not comprise ignorant fanatics, but rational and strategic individuals who remain capable of threatening the unity of Nigeria. Interviews with alleged Boko Haram members in custody indicate that although they lack Western education, the majority possess a capacity for critical thinking. This, combined with their knowledge of the local environment, has proved extremely potent. Better understanding of the group must form the basis of all military, political and legal engagement.
Better co-ordination of the humanitarian response: Efforts to address the humanitarian crisis in northeast Nigeria are increasingly part of the problem rather than the solution. Relief materials often fail to reach intended recipients and the relief "industry" has changed the economic dynamics of the region, producing more victims. For example, house prices have skyrocketed in both Yola and Maiduguri as landlords prefer to rent out properties to NGO workers rather than to returning residents. The influx of well remunerated aid workers, together with the collapse of the naira, has also pushed up the price of basic market goods. There is a need to establish a central co-ordinating body that oversees all humanitarian activities, with goals and objectives that are clearly defined and tailored for local needs. This role could be filled by the Nigerian Emergency Management Agency, under the guidance of the Presidential Committee on North East Initiative, with technical and logistical support from foreign partners. At the moment a plethora of humanitarian groups operate in the region; all have different visions and strategies that rarely complement the work of others, or the Nigerian government.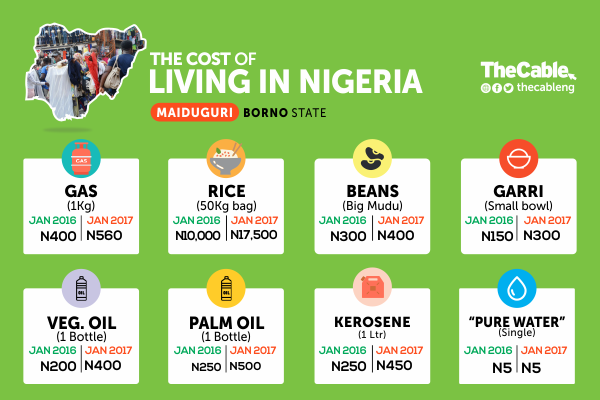 Improved regional collaboration and security: Porous borders and a lack of security in internally displaced person (IDP) camps, mean that the Lake Chad basin continues to be fertile recruiting ground for Boko Haram. Weak border enforcement by security personnel has allowed the group to transport arms, establish safe havens and – in 2014 – declare a caliphate in parts of the northeast. On 6 February 2017, Mali, Niger, Chad, Mauritania and Burkina Faso established the G5 Sahel counter-terrorism unit. Based in Mali, the unit will be deployed against various terrorist groups operating in the Sahel. Better intelligence-gathering should strengthen the Multinational Joint Task Force, which has been fighting Boko Haram since 2012. An improved regional security response must also incorporate local agents with profound knowledge of the border areas, such as vigilante groups and the Nigerian Civilian Joint Task-Force (CJTF), if it is to be successful.
Demobilisation: A process of disarmament, rehabilitation and reintegration needs to be done with care and attention within a pre-established legal framework. Some members of vigilante groups, local hunters, ethnic militias and CJTF in Borno and Yobe states have been compromised and used by Boko Haram to carry out attacks. Others took up arms against the group as a reaction to the government's failure to protect their communities. Where appropriate, members of such groups could be properly trained and enrolled into the military or other security agencies. However lessons should be learned from demobilisation of militants in the Niger Delta to avoid a future scenario in which demobilised fighters can use the threat of returning to arms to hold the government to ransom.
Reconstruction: The adherence of all state authorities and local politicians to the immediate reconstruction of schools, hospitals and other basic infrastructure destroyed during the conflict is essential. In Borno, Yola and Adamawa states efforts to clear landmines and unexploded bombs should be undertaken before displaced communities are asked to return home. These efforts would not only support communities returning to restart cultivation but would be a first step in the long process of (re-)establishing the state as a provider of services to citizens in the region.
Open channels of dialogue: Federal and state government(s) should support efforts to co-ordinate local community dialogue. There must be open channels of communication between Christians and Muslims, and between victims and perpetrators. Initiatives should be designed to ensure that women and youth are active participants and have their voices heard; they could be led by women's groups, local authorities (such as traditional rulers and religious leaders that still have the respect of local communities), and civil society groups with established structures, capacity and credibility.
In the long-term
Address the education deficit: Nigeria's education system is failing the people of the northeast. An unpublished article by the Kukah Centre in 2013 suggested that over 60% of Muslim parents in rural parts of the region choose to their children to Almajiri schools where they acquire Qur'anic education. The situation for girls is worst: fewer than 10% receive a secular education. Getting rid of the Almajiri system is not a viable option, but its curriculum needs to be reformed to offer comparative religious studies as well as place greater emphasis on the sciences.
Recognise radical roots: Boko Haram recruits from other extremist – but non-violent – groups in the region, such as Aljanna Tabbas, Medinatu al-Keffi and Kala Kato. The government needs to accept this reality. It should set up a religious commission, or work closely with religious bodies, to establish guidelines that hold preachers accountable for hate speech and the consequent actions of their followers. In addition, there is a pressing need to train moderate Islamic preachers to support efforts to counter violent extremism and get involved in inter-faith and community dialogues. Denying that Boko Haram and similar groups are motivated by religious ideology is counter-productive; recognising these ideologies provides the platform to counter them effectively.
Define citizenship: Nigerians are too often identified by their state of origin. The development of an effective policy or piece of legislation reinforcing common Nigerian citizenship devoid of religious, ethnic or regional considerations is necessary. Section 147 of Nigeria's 1999 Constitution endorses the indigene ideology in political appointments. This should be amended. Laws that allow citizens to be considered for admission into universities, scholarship grants, employment or military enrolment on the basis of their state of origin, religion or ethnicity must also be revisited and revised.
Revisit historical narratives: Boko Haram's manipulation of history and memory was a central part of the ideology that enabled its transformation. The group has benefited from a highly contested national narrative of the past in Nigeria. The Minister of Education expressed support for the reintroduction of history into primary and secondary schools in May 2016, but as it stands the subject has not been taught in schools since 2009. Developing a history syllabus to be taught in schools that offers a more balanced understanding of Nigeria's colonial and pre-colonial past is important for future unity.
Understand how Boko Haram communicates: Despite its rejection of all the manifestations of globalisation, Boko Haram has effectively exploited modern technology for mobilisation and recruitment. The group has multiple factions, dispersed leaders and many sources of funds: technology underpins its ability to operate. Nigeria's government and security agencies should carry out intensive analysis of the group's use of information technology, its technological capacity, how it channels its messaging both at home and internationally. This would provide valuable insights that can be used to counter Boko Haram.
Fr. Atta Barkindo is the Director for Faith and Public Policy at The Kukah Centre, Nigeria. He is the author of "How Boko Haram exploits history and memory".