Government in Nigeria "is detached from its people at every level of the federation", said Chidi Odinkalu, chair of the National Human Rights Commission, when interviewed for ARI's 2016 briefing note "State(s) of crisis". For most Nigerians, the state and unelected local government authorities are the most proximate form of government. Yet too little attention is paid to how these institutions operate and impact – or fail to impact – on the daily lives of citizens.
In a new ARI blog series, "NIGERIA: HAVE YOUR SAY", Nigerians from many different walks of life will reflect on aspects of sub-national government from Borno in the north-east to Lagos in the south-west; and from Sokoto in the north-west to Enugu in the south-east. There will be no overtly self-serving or politically partisan inclusions.
In launching the series, ARI aims to provide a platform that will contribute to a more nuanced understanding of local governance in Nigeria and to draw attention to suggestions for improvement. New submissions will be added regularly in the coming months.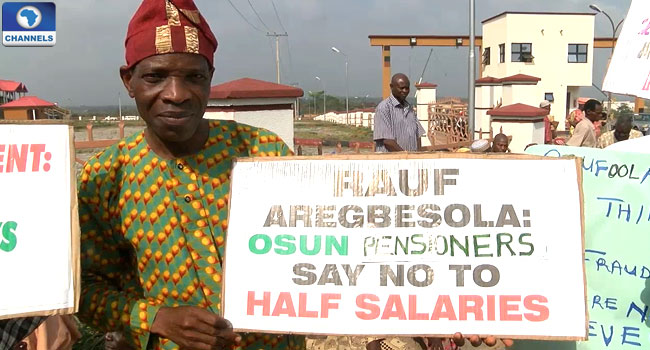 On 27 August 2016, Osun State marked the 25th anniversary of its establishment, but there were few celebrations among its residents, particularly pensioners. They used the day to protest at the state's inability to pay outstanding pensions and gratuities. Protests occurred again in late November when pensioners descended on the state capital, Osogbo, to demand payment of arrears that now, in some instances, stretch back ten months. But instead of addressing these issues, the government, led by Governor Rauf Aregbesola, appears more focused on erecting "legacy" structures – chiefly ambitious construction works in Osogbo – and building roads. What is the justification for embarking on ambitious construction projects when public workers are not paid their salaries and retired public servants are suffering because the state government ignores their long years of service?
In July 2015, in the wake of the national economic downturn, the Osun administration decided to introduce a temporary cost-cutting measure that remains in place. Pensioners who were paid less than ₦20,000 (US$63) a month would still receive their pension in full, but those whose pensions exceeded this amount were to get only 50% of the full amount. This peculiar arrangement means that a pensioner on ₦25,000 (US$79) a month now has to make do with ₦12,500 (US$39); but one who previously received ₦20,000 continues to do so.
Chairman of the Forum of 2011/2012 Retirees Omoniyi Ilesanmi declared that since its inception 1,130 of the forum's members had died, in part because of their inability to access medical care: "they had no means of taking care of themselves". Many others have been forced to enter the informal business sector or rely on networks of family and friends for financial support. Take my mother as an example. She worked for the state as a primary school teacher from 1972 until her retirement in 2007. When I was a child, she often struggled to provide adequate food for the family and send my older siblings to school due to salary freezes and delays. Now, a decade after retiring, she is considering selling okrika (second-hand clothing) as a way of raising a little income to make ends meet.
Director of Osun State's Bureau of Communications, Media and Strategy Semiu Okanlawon stated that:
"while we sympathise with our workers and pensioners alike, for not paying up to date, it's pertinent to state that this is not peculiar to Osun and indeed, Osun has made efforts that should be commended by all, especially in the face of national cash crunch."
This is clearly a disingenuous attempt to solicit acceptance of the treatment of civil servants by saying that all states have the same problem. It tries to deflect interrogation regarding what Osun intends to do about Osun's civil servants.
In June 2016, Chief Justice Oyebola Adepele Ojo demanded that the governor provide a comprehensive debt profile of the state. At the end of 2015, Osun's total debt stock stood at ₦159.8bn (US$504.9m). In the first six months of 2016 the state generated an average monthly revenue of ₦3bn (US$9.4m), but its recurrent expenditure in the same period was more than double that at ₦6.6bn (US$20.8m). In other words Osun is slipping further and further into debt. Its leaders seem to be hoping for a miraculous turnaround in federal economic fortunes: they have no clear economic plan of their own.
Gubernatorial elections are scheduled to take place in 2018; there is a distinct possibility that the next governor will be presented with a very negative inheritance, particularly in fiscal terms. Those in authority would do well not to forget the state's motto: ipinle omoluabi (state of the well cultured). They could begin by eschewing legacy projects and replacing them with initiatives that improve the daily lives of ordinary residents and deal with root causes of problems. As things stand, however, our leaders seem happy to leave the most important questions for another day, when it is out of power. As long as this attitude prevails, it will be hard to establish trust between Osun's residents and its leaders.
Ifeoluwa Adedeji, who is from Osun State, is a graduate student and research assistant at Ohio University's Centre for International Studies, where he concentrates on Africa. He is the editor of Africa@OHIO Blog.